6.02.2009 – 5:04 pm
Tak dneska to už opravdu se skypem nešlo. Bodejď, kvalita signálu někde na 38%, 8% packetů ztracených, SNR někde u 30%. Už to trvá asi týden, že by inverze? Začal jsem řešit problém, jak vyměnit anténu k našemu Linksysovi, kdy jsem narazil na video (a postupně dogooglil i článek, kde popisovali, jak vyrobit parabolickou anténku snadno a hodně rychle. Vrátil jsem se do dětství, vyžebral na Áje čtvrtku, podlepil vytištěnou šablonu, vykousal z papíru nůžkama, nalepil staniól a za minutku jsem měl vyrobenou parabolickou anténku, jako víno. A za druhou minutku druhou. Původě jsou ty antény určené hlavně proto, abyste si zvýšili kvalitu signálu, používáte-li router pro domácí připojení. Jenomže neochvějné zákony fyziky říkají, že co funguje na vysílání signálu, to musí fungovat i na jeho příjem.
Po nasazení jsem pečlivě "zaměřil" access point (asi to budu muset zopakovat s notebookem v ruce a ne systémem pokus – seběhnout ze schodů – proběhnout do druhého pokoje – zkontrolovat – a zpět) a HLE, kvalita signálu 47%!
Několik tipů
Pokud chcete použít obě anténky, nezvětšujte šablonu, pak se vám tam nevejdou. Já to zvětšil na formát A4. (ze 14 cm na cca 20). Teď mám alespoň jednu náhradní, kterou budu nejpozději po víkendu (kdy má začít dost foukat) potřebovat.
Zkuste to vyrobit z něčeho trvanlivějšího, než z papíru
Potřebná doba na tvoření od vytištění šablony až do instalace: 5min
Nejenom, že to vypadá líp, než psí límec vystlaný staniólem, nejenom že se to na anténu montuje výrazně líp, než psí límec vystlaný staniólem, ale funguje to taky výrazně líp, než psí límec vystlaný staniólem.
Na závěr několik fotografií. Mezitím jsme kryt z Magnézie nahradili krytem z Arielu. Anénce to ale nijak nevadí.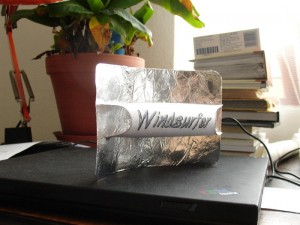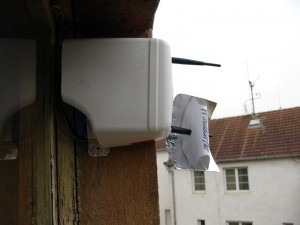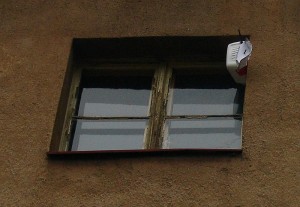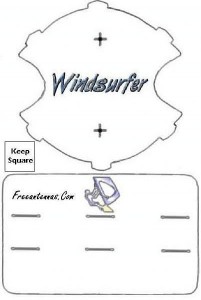 A to je teprve začátek!