13.11.2006 – 6:07 pm
Pro veškerou svou práci využívám GRASS GIS. GRASS je kombinovaný (zvládá práci s vektorovými i rastrovými daty) GIS, vyvýjený pod licencí GNU/GPL, z čehož mimo jiné plyne, že je zdarma a legálně.
Stránek zabývajících se GRASSem je celá řada a je proto zbytečné zde opakovat informace, které se můžete dočíst jinde. Proto zde uvádím pouze seznam mých prací, textů, odkazů na případné překlady a podobně, které se GRASSem zabývají.
---
Filmy a flashové animace
Občas udělám nějaký ten referátek nebo si něco zkusím. Občas z toho pomocí modulu NVIZ udělám nějaký ten filmek. Bohužel mi na serveru Tiscali zrušili účet blahé paměti, takže některé filmky a obrázky jsou nenávratně vtahu. Něco nového jsem ale vytvořil.
Filmy jsou jenom ilustračí, flashové animace by vám měly dát představu o tom, jak se jednotlivé operace pomocí GRASSu provádějí.
Nejdříve filmy
* Přelet se stromy [5.2 MB] — to bylo ještě v době, kdy byl v GRASSu bug, který způsoboval, že terén jednoduše zčernal, když se zobrazovaly zároveň 3D vektory
* Přelet s jinými stromy [14 MB] — aneb jak funguje můj nový modul v.trees3d
* Spearfish [710 kB] — jednoduný přelet nad location Spearfish
Flashové animace
* Trees – jak se pracuje s modulem v.trees3d
Obrázky
Každý pracuje v GRASSu trochu jinak. Takle to vypadá, když se do toho pustím já.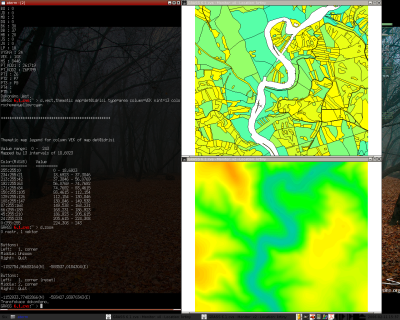 NVIZ je vizualizační nástroj GRASSu. Je schopen zobrazovat rastrová a vektorová 3D data. Pomocí NVIZu jsou dělány také všechny filmy na této stránce.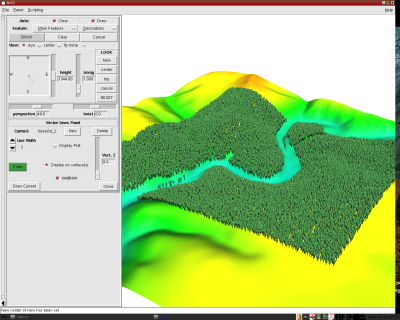 Nové grafické uživatelské rozhraní. Zachovány monitory, ale ovládání pro ZOOM a další funkce jsou integrovány přímo na nich. Každý monitor si pamatuje své vrstvy, historii zoomů… no není to paráda?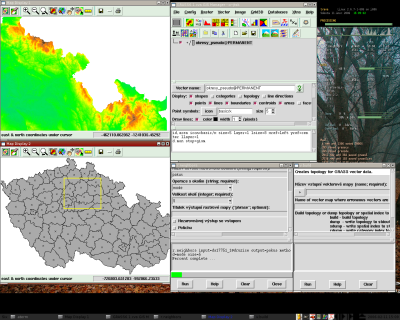 Postery
Zatím jenom jeden